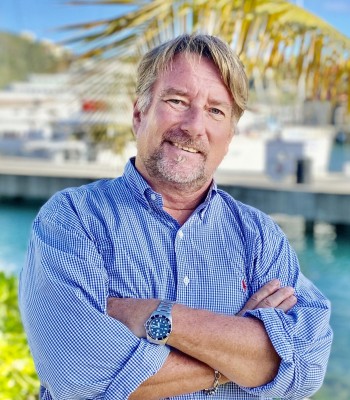 Harald Tapp - Special Agent Water Island
Harald was born and raised in the lovely Roman/Medieval/Romantic City of Trier - nestled between the vineyards along the Moselle River in Germany. He graduated from Treviris Gymnasium in Trier. After some extensive travels around Europe and a short stint studying Graphics and Design, he enlisted and spent some time in the German Air Force. After realizing this was really not the life or career he was looking for, he finished his commitment and 'retired' in 1988.
He booked a flight from Paris to Guadeloupe in search of a new home, turning his back on the long cold winters in Germany to look for a new home and life in the warm Caribbean weather. He traveled the islands in search of a place he could call his new home and in 1989 arrived on St.Thomas where he met his wife Zona. At that time Zona was already a resident of Water Island and once Harald got to know her and the Water Island life, he knew he'd found what he was looking for. A Water Island resident ever since, he can share a wealth of knowledge about the island, its residents and everyday Water Island life. He has been living it for over thirty years!
Being a 'Landlubber' coming out of the sky, he also discovered his passion for boating and the ocean. Since 1992, he has been the Sales Manager for Offshore Marine, so he not only can help you find your dream properties on Water Island, but also help you find the right boat!